The Real Cost of Illegal's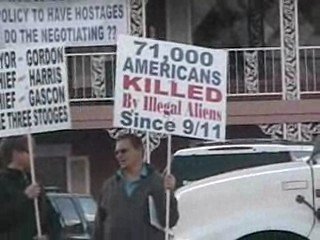 Conclusions:
Twenty-five Americans die at the hands of criminal aliens every day in the U.S. (12 murders + 10 drunk-driving fatalities + 3 negligent homicides = 25 deaths every day) In the year 2005, criminal aliens killed more than three times the number of Americans murdered in the terrorist attacks of 9-11 died. 9,125 Americans died at the hands of criminal aliens in 2005, as compared to approximately 3,000 Americans who perished in 9-11. [
Source
] Will look for the current stats.
Hat tip "Wild Thing"
---
Tags:
crimes, stats, illegal aliens
To share the post, click on "Post Link." Please mention / link to Blogs for Borders. Thanks!