Obama admin to allow many illegal aliens to stay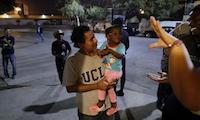 WASHINGTON (AP) - The Obama administration said Thursday it will allow many illegal immigrants facing deportation the chance to stay in this country and apply for a work permit, while focusing on removing from the U.S. convicted criminals and those who might be a national security or public safety threat.
That will mean a case-by-case review of approximately 300,000 illegal immigrants facing possible deportation in federal immigration courts, Homeland Security Secretary Janet Napolitano said in announcing the policy change.
Advocates for an immigration overhaul have said that the administration, by placing all illegal immigrants in the same category for deportation, has failed to live up to its promise to only deport the "worst of the worst," as President Barack Obama has said. . . .

---
Tags:
Obama, amnesty, illegal aliens
To share the post, click on "Post Link." Please mention / link to Blogs for Borders. Thanks!